Archive for the 'MasterOfTheEggs2029' Category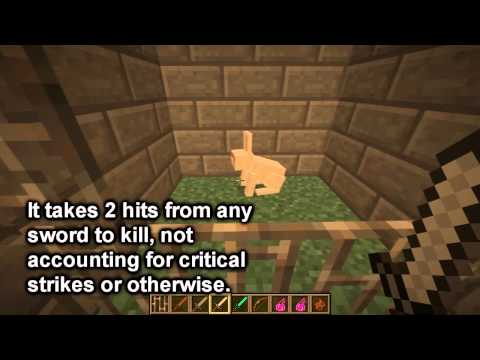 Please be sure to LIKE, COMMENT, AND SUBSCRIBE! The Rabbit is a (mostly) passive fluffy creature that hops about the plains, forests and hills of the overworld. This video goes into depth…

Tags: (award-winning, (industry), 360, bunny, craft, game, mine, minecraft, mob, platform, ps3, rabbi, video, work, xbox
Filed under MasterOfTheEggs2029 : Comments (10) : Mar 9th, 2015
Please be sure to RATE, COMMENT AND SUBSCRIBE! The horse is an agile, tameable mob with amazing speed and jump height. This video takes an in-depth look at these mighty steeds.

Tags: 10, 18, alpha, beta, donkey, guide, help, horse, minecraft, mob, mule, steed, tips, tricks, tutorial
Filed under MasterOfTheEggs2029 : Comments (9) : Dec 4th, 2014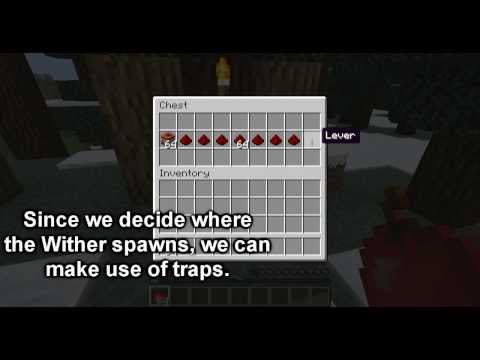 The is the second boss mob added to the game, and is far more ferocious than the Enderdragon. This video goes into depth about these fiends. A Wither can onl…

Tags: (industry), 10, 16, 161, alpha, beta, complete, craft, game, gaming, guide, mine, minecraft, mob, pc, version, video
Filed under MasterOfTheEggs2029 : Comments (20) : Aug 20th, 2013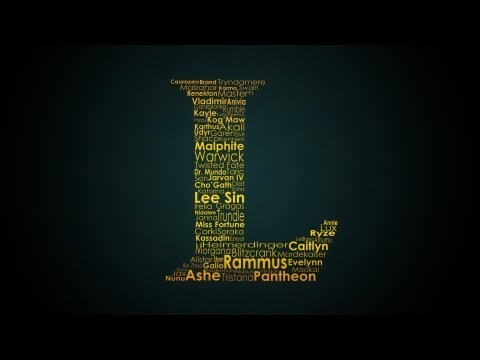 I'm back, and what the heck happened to my Minecraft World? -What is the Wither doing? Why is it killing all these horses? -Why are there some villagers arou…

Tags: alpha, beta, building, creation, creative, gaming, guide, help, league, legends, minecraft, mob, of, pc, survival, tips, trailer, tutorial
Filed under MasterOfTheEggs2029 : Comments (6) : Aug 7th, 2013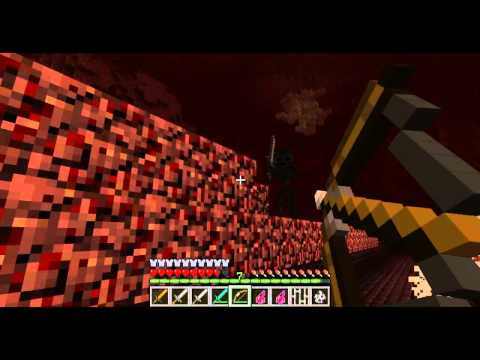 Apologies for the lateness, but here is the Wither Skeleton, a dark, unholy warrior of bones. They lurk in Nether Fortresses, and do not take kindly to humans… Wither Skeletons are dangerous hostile mobs that spawn in Nether Fortresses. Wither Skeletons are the Nether equivalent of skeletons. Unlike skeletons, Wither Skeletons use stone swords and are over two blocks tall. When hit by a Wither Skeleton on any difficulty, the player is inflicted with the "Wither" effect for 10 seconds, darkening the health bar and further damaging the player. When killed, the mob may drop coal and bones, and very rarely drop their skull and the stone sword. They have a 1/40th chance of dropping either of these items. This chance will go up if you use a sword with looting. The skulls are the key items to creating the Wither boss. Wither Skeletons, like all Nether mobs, are immune to fire and lava and are not damaged by daylight. Some Wither Skeletons can also pick up items, weapons, tools, and armor, similar to other undead-type monsters.

Filed under MasterOfTheEggs2029 : Comments (20) : Jan 8th, 2013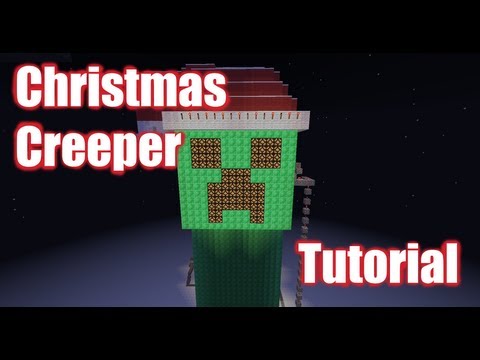 Merry Christmas. Uploaded mere MINUTES after Christmas due to some uploading errors, and render errors beforehand. This video shows you my Emerald Christmas Creeper, full with Christmas Lights, a Christmas hat and flashing face. Fireworks too! Sorry for all the cuts and skips, but I didn't want to scare you off with a 20 minute video. If you have any troubles following it, please leave a comment and I'll be sure to reply! :)

Filed under MasterOfTheEggs2029 : Comments (12) : Dec 26th, 2012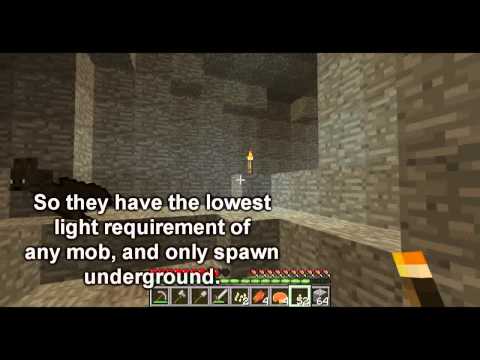 The bat is a small denizen of the underground caverns, sleeping within only the darkest of areas. This video goes into (an appalling low amount of) detail about these brilliant bats. Bats are passive mobs that spawn naturally in caverns or other large enclosed spaces. Bats are the only passive mob able to fly, and the only flying mob that naturally spawns in the Overworld. They will often emit a squeaking noise, but do not do many other things that can affect gameplay. Bats are visually the third smallest mob in the game, being only slightly larger than baby chickens and Silverfish. They are hard to see in the unlit environment in which they reside. They have dark brown skin, small wings and little feet.

Filed under MasterOfTheEggs2029 : Comments (16) : Dec 12th, 2012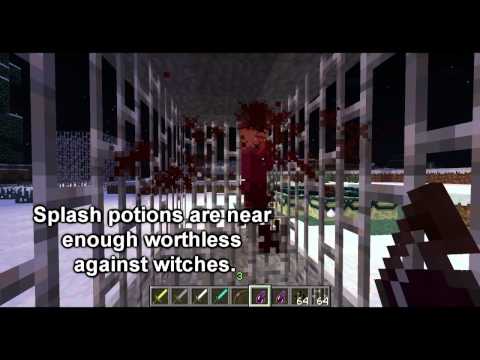 The Witch is a dark exiled villager, now turning to evil magic and potions to thwart those who come to close. We shall attempt to take a closer look at this vile fiend. Witches have a similar appearance to the villager mob, and they wear purple and green robes with brown leggings underneath. They have large noses (which moves slowly around on the Witch's face, as stated in Dinnerbone's tweet) with a single wart and have lavender colored eyes. They wear the usual witch hat with a green buckle on it, and their skin is slightly paler than the normal villager. However, witches periodically give off purple star particles similar to the villager's green stars. Tags : Mine Craft Minecraft Witch Magic Potion Splash "Splash Potion" how to "how to" tutorial guide mob villager npc hostile passive neutral swamp biome hut 1.4 1.0 1.3 1.2.5 version update new Hogwarts wizard Dumbledore "Splash potion of Harming" "Splash potion of Poison" Fire Resistance "Fire Resistance" Healing Pot

Filed under MasterOfTheEggs2029 : Comments (3) : Dec 1st, 2012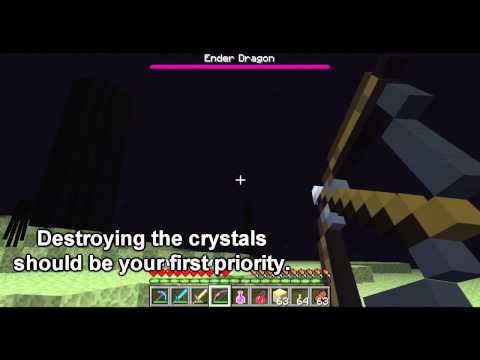 Finally, we reach the final boss of Minecraft. The terror of the void and the predator of dark winds; in this video, we shall take a close look at the Enderdragon. The Ender Dragon is the first official boss mob to appear in Minecraft (with the second being the Wither, introduced in pre-release 12w34a). It only naturally spawns in The End. This mob uses the dragon model Notch created, but utilizes a texture more reminiscent of an Enderman, being black and scaly with purple eyes. Music credits: Kevin Macleod — Interloper Tags: "Minecraft (Video Game)" Minecraft Mine Craft Mob Guide "Minecraft Mob Guide" Boss End The Ender Realm Dragon Enderdragon Enderman Pearls Eye "Eye of ender" silverfish Herobrine Zombie Pigman Stone Obsidian Void Vechs Vanilla Tutorial How to "how to" help pc gaming 1.0.0 1.1.0 1.2.1 1.3.1 1.4.2 update version Xbox 360 Edition "Xbox 360 (Video Game Platform)" "Xbox 360″ "Minecraft Xbox" "Xbox Minecraft"

Filed under MasterOfTheEggs2029 : Comments (19) : Nov 1st, 2012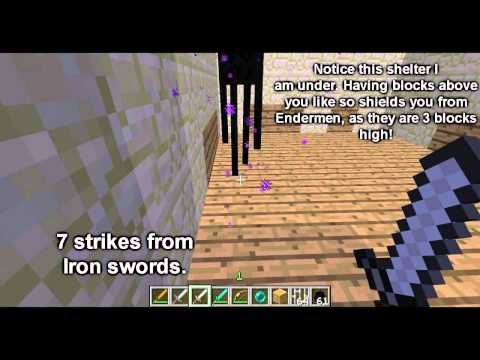 The spectral wanderer of another realm crosses into ours. These are enemies that are not to be trifled with, and not to be angered at all. An Enderman (plural Endermen) is a three-block-high, humanoid, neutral mob. Endermen are known for their unique ability to teleport and pick up blocks. Along with those abilities, they also have a peculiar way of becoming provoked; as well as becoming provoked when attacked, Endermen will also become hostile when a player looks at their upper legs, torso, or head. Endermen frequently spawn in The End, their home world, but they still require a light level of seven or less in order to spawn. They will also spawn in the Overworld, although about 10 times more rarely in comparison to other mobs. They can be seen regularly at night in groups of up to five. Tags: "Minecraft (Video Game)" "Mob (video Gaming)" Mine craft Minecraft "Minecraft mob guide" mob guide tutorial how to "how to" xbox 360 edition "Xbox 360 (Video Game Platform)" Ender End The EnderDragon Dragon man Enderman Zombie silverfish herobrine skeleton spider cave

Filed under MasterOfTheEggs2029 : Comments (13) : Oct 3rd, 2012