Posts Tagged 'golem'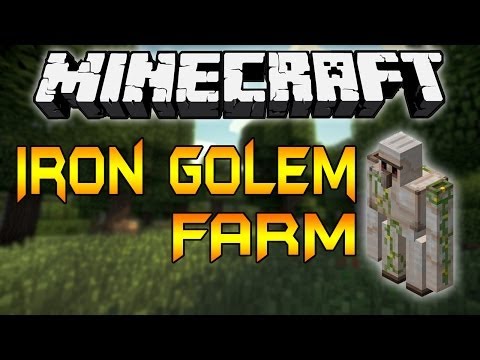 Get LOOT from an iron golem farm Subscribe for more: http://minecraftdotnet.com/subscribe Can we hit "300 LIKES" for more! Directors Channel: https://www.you…

Tags: efficent, farm, golem, iron, minecraft, minecraftdotnet, s, themodspotlight, tutorial, working
Filed under MINECRAFTdotNET : Comments (9) : Mar 10th, 2014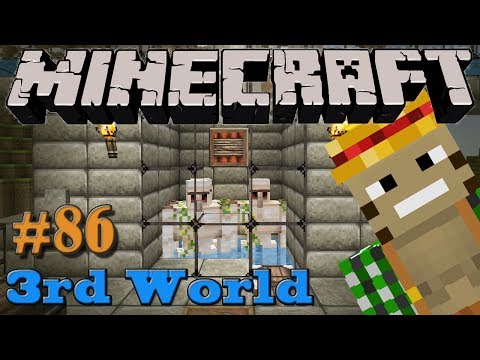 Minecraft snapshot 14w03 is out, and Iron Golems have been nerfed. They no longer drop iron unless the player kills them or activates tnt directly. So I'll b…

Tags: 14w03, 18, collect, cooker, farm, from, golem, golems, grinder, how, iron, minecraft, snapshot, to
Filed under monkeyfarm : Comments (20) : Jan 20th, 2014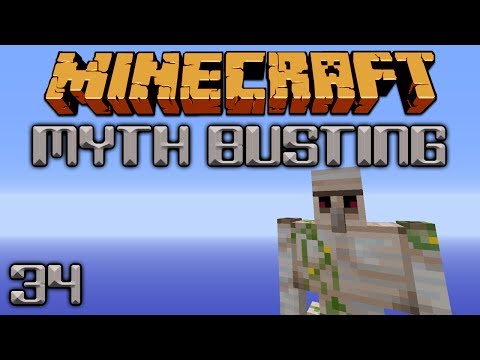 Minecraft Myth Busting Playlist â-» https://www.youtube.com/playlist?list=PL7VmhWGNRxKi1ikLc2b_pi6EIGOCdF10d This episode we take on 5 different myths all to do with the Iron Golem! Minecraft:…

Tags: 18, busting, game, golem, iron, minecraft, myth, video, xisuma, xisumavoid
Filed under xisumavoid : Comments (20) : Dec 7th, 2013
Shortcuts Below! /// Brand new witch farm design – Uses no redstone! Also checking out my new storage room and it's player-tracking face :) 0:00 Intro 1:02 A…

Tags: eyes, face, farm, golem, hermitcraft, hoppers, iron, lets, lp, minecraft, pistons, play, player, red3yz, redstone, server, smp, spide, tracking, video, witch
Filed under Red3yz : Comments (20) : Dec 4th, 2013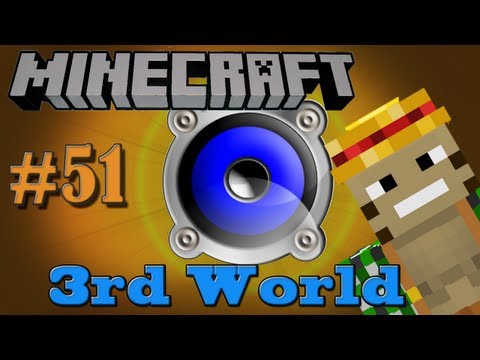 For my 300th episode, I have a special treat… A sneak-peak to my new music channel: http://www.youtube.com/MonkeyfarmMusic Be sure to subscribe to Monkeyfa…

Tags: farm, golem, grinder, iron, minecraft, monkeyfarm, monkeyfarmmusic, music, trap
Filed under monkeyfarm : Comments (20) : Jun 2nd, 2013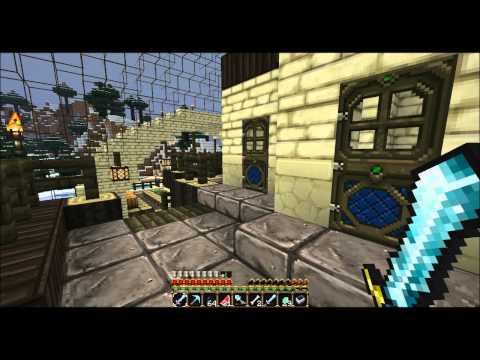 Hollidays have begun for me. one week off. so much to do, but also a lot of free time. today I am messing around a bit. doing some enchanting and trading. I hope you like the episode. next episode I will try to fit in a Q an A session. so now its the time to ask anything you ever wanted to know about me.

Tags: 72, adventures, eedze, farm, golem, iron, minecraft, trading, villagers
Filed under eedze : Comments (8) : Sep 4th, 2012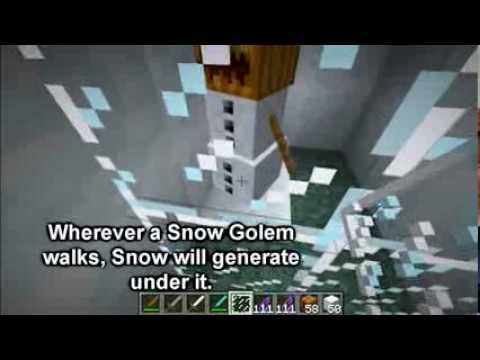 Be sure to RATE, COMMENT AND SUBSCRIBE! The Snow Golem is a defensive utility mob that can really help keep your streets (that you may or may not have built) clean. Snow Golems are the game's first utility mob, which Notch defines as any player-created mob. They are friendly to their creator. Snow Golems are created using pumpkins and snow blocks, and will throw snowballs at enemy mobs. As Snow Golems move, they leave a trail of snow on the ground, except in Plains, Beaches, Swamp, Mushroom Island, Desert, and Jungle biomes, and the Nether. If a Snow Golem walks over a mushroom, the mushroom will be destroyed and dropped as an item. Snow Golems do not take fall damage. Once killed, the Snow Golem will drop a maximum of 15 snowballs. Like endermen, Snow golems take damage upon contact with water.

Tags: 10, 125, 13, 360, balls, beta, biome, blaze, block, book, builders, craft, damage, edition, enemy, essentials, friendly, gaming, golem, guide, health, herobrine, how, jack, lantern, melt, mine, minecraft, mob, monster, nether, o, pc, pumpkin, skeleton, slime, snow, snowballs, survival, to, tutorial, utility, xbox
Filed under MasterOfTheEggs2029 : Comments (12) : Jul 11th, 2012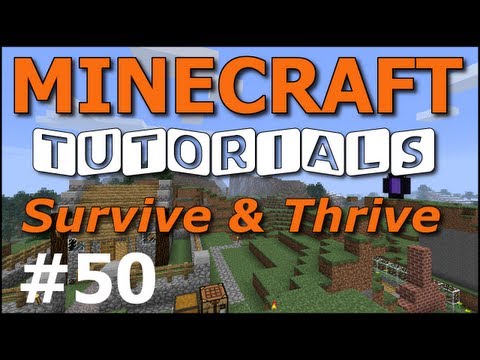 Join my community @ punchwood.com How to Survive and Thrive in Minecraft! In this episode, we visit the nearby NPC Village and meet their Iron Golem defender! Then we head back home to make one for our home defense purposes! Iron Golem wiki www.minecraftwiki.net Download this tutorial world: paulsoaresjr.com or create it from scratch: www.youtube.com Time lapse song is "Power Juice" by PacDV @ www.pacdv.com WEB: punchwood.com TWITTER twitter.com FACEBOOK: www.facebook.com Get Minecraft here: minecraft.net In this episode you will learn – how to find/spawn an iron golem at a village – how to build an iron golem Tags: yt:quality=high minecraft "minecraft beta" "minecraft 1.2″ "minecraft survival" "minecraft tutorial" "minecraft help" "pc gaming" paulsoaresjr tutorial "how to" gameplay commentary tips secrets gaming computer help beginners survival guide how to survive "survive and thrive" "minecraft iron golem" iron golem defense

Tags: 12, and, beginners, beta, commentary, computer, defense, gameplay, gaming, golem, guide, help, how, iron, minecraft, paulsoaresjr, pc, secrets, survival, survive, thrive, tips, to, tutorial
Filed under paulsoaresjr : Comments (20) : May 15th, 2012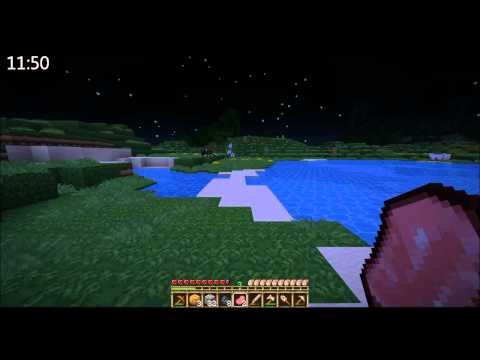 I saw some video's of people trying to finish this challenge. And I thought, well… I can do that way better. So here is my challenge. and guys! your new time to beat is… just check the video and see if I made it!

Tags: cat, challenge, companion, companions, dog, etho, fastest, find, goals, golem, hardcore, iron, limit, ocelot, pets, quick, record, snow, speed, survive, tame, time, wild, win, wolf
Filed under eedze : Comments (9) : Apr 22nd, 2012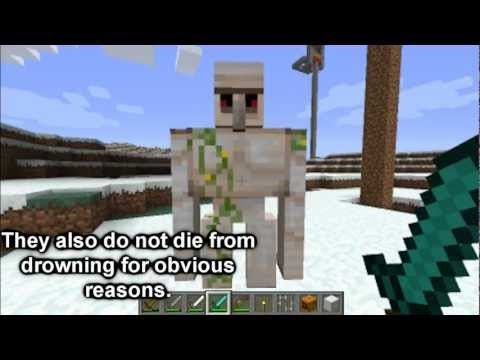 Please take a moment to RATE, COMMENT & SUBSCRIBE! The villager's built the Iron Golems. They are towering defenders of the villages, and do everything they can to destroy anything they can that could bring harm to the village. This video takes a detailed look at these robots. This is the forth episode in a series of Minecraft Mob Guides, where we look at all the hostile AND passive mobs in Minecraft in detail. In this episode, we take a look at the Iron Golem. This colossal robot is the strongest in the over world. They protect the villagers against anything that can harm them, and if you do the wrong thing, they could try to protect them from you… Music by Daniel 'C418′ Rosenfield – Hal3 "Haggstrom"

Tags: 10, 100, 12, 125, and, army, beast, beginners, beta, block, bookshelf, commentary, computer, creature, death, decorating, destruction, explode, farm, gameplay, gaming, golem, grass, guide, help, how, ingot, iron, kill, man, mech, minecraft, mob, paintings, paulsoaresjr, pc, retro, robot, rose, secrets, spc, stone, survival, survive, thrive, tips, tnt, to, trap, tutorial
Filed under MasterOfTheEggs2029 : Comments (2) : Apr 19th, 2012